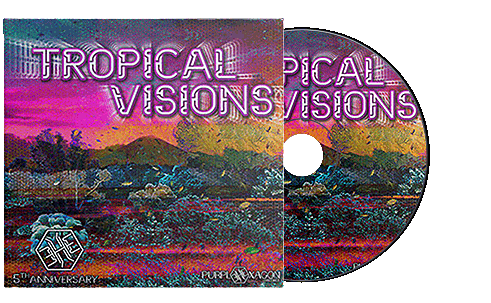 Purple Hexagon Records celebrate its 5th birthday with a double cd compilation offering an intense collection of psychedelic music. Compiled by the label dj team, "Tropical Visions" is a tribute to the shining, smiling & feet-stomping dancefloors of South East Asia.
At the same time, it is a special praise to the magic of Gili Air, Indonesia, the paradise island that has welcomed us & many psytrance lovers over the past few years. Whether quietly browsing its vanilla skies, clean horizons & lunar landscapes, or wildly dancing on its white sand beaches & tropical lush green surroundings under a canopy of stars, we have all fallen under the spell of this tiny magical island.
After being tested by the label crew during the "winter" Asian months, with the turning of the season "Tropical Visions" is now ready to travel. 20 unreleased tracks covering a wide range of underground psytrance music, drifting from spiritual goatrance & twilight sounds to night & forest beats are presented here to enrich your dj case & home psytrance collection.
Play it loud & let yourself flow into your own tropical vision!